Paid Family Leave (PFL) benefits will become available to SU staff, student employees, and graduate assistants on January 1, 2018. To learn more about the requirements of this New York legislation, we encourage you to watch this on-demand webinar, or attend an on-campus information session.
---
On-Campus Information Sessions for Paid Family Leave are available at the following times:
1:30 p.m. Friday, Dec. 8th in Eggers 010
10:30 a.m. Tuesday, Dec. 12 in Hall of Languages 207
9:30 a.m. Wednesday, Dec. 13 in Shemin Auditorium/Shaffer Art Building
These sessions will review the same material as the recording below.  Human Resources staff will be available to answer questions.
---
View a PDF version of the webinar with notes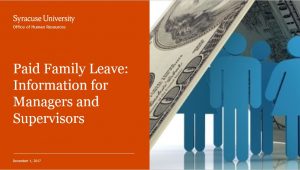 Frequently Asked Questions for Managers and Supervisors
In addition, the following Frequently Asked Questions are specifically for managers and supervisors. General FAQs about Paid Family Leave are available in the Paid Time Off section of the HR website.

  Print Version of the Frequently Asked Questions for Managers and Supervisors
Eligibility for Paid Family Leave Benefits
Waiver of Paid Family Leave Benefits
Paid Family Leave Costs
Employee Rights During Paid Family Leave
Leave to Bond with a New Child
Leave to Care for a Family Member with a Serious Health Condition
Leave for a Family Member Called to Active Military Duty
Requesting Paid Family Leave
Additional Information