At Syracuse University, our Office of Human Resources is dedicated to the success of our faculty, staff, and student employees. Our priorities are clearly defined and focused on helping employees achieve their career goals and worklife balance. Working at Syracuse means that you have comprehensive and generous benefits, great colleagues from all 50 states and around the world, and are a part of a great University community with more than 21,000 students. From training and professional development to wellness and financial planning, our team is ready to provide support and professional expertise for employees in the modern workplace.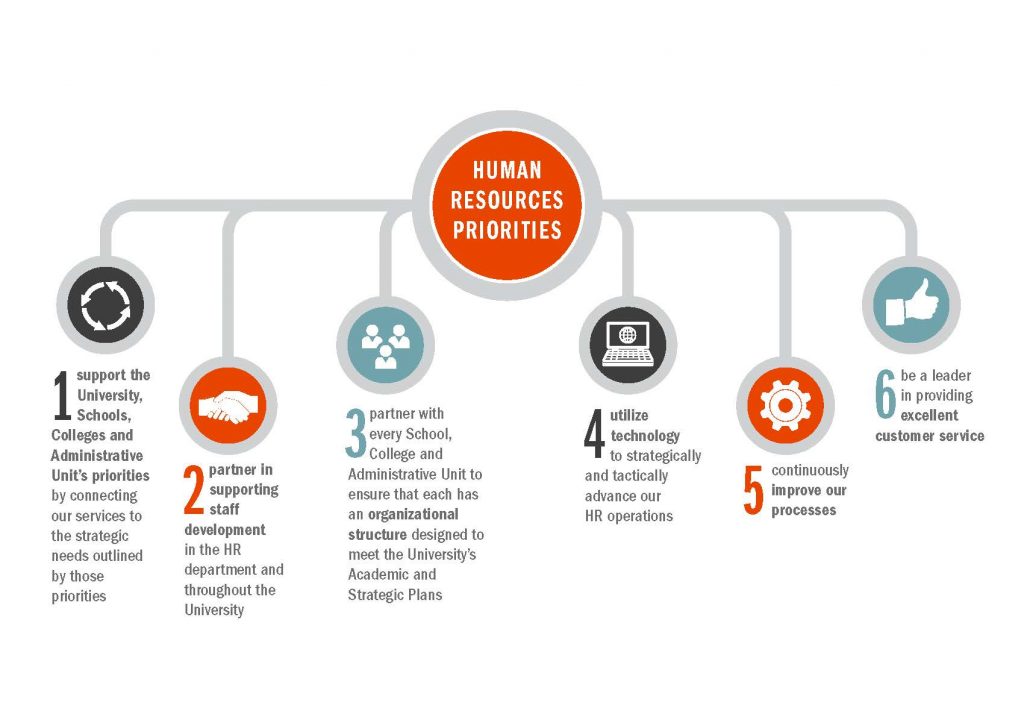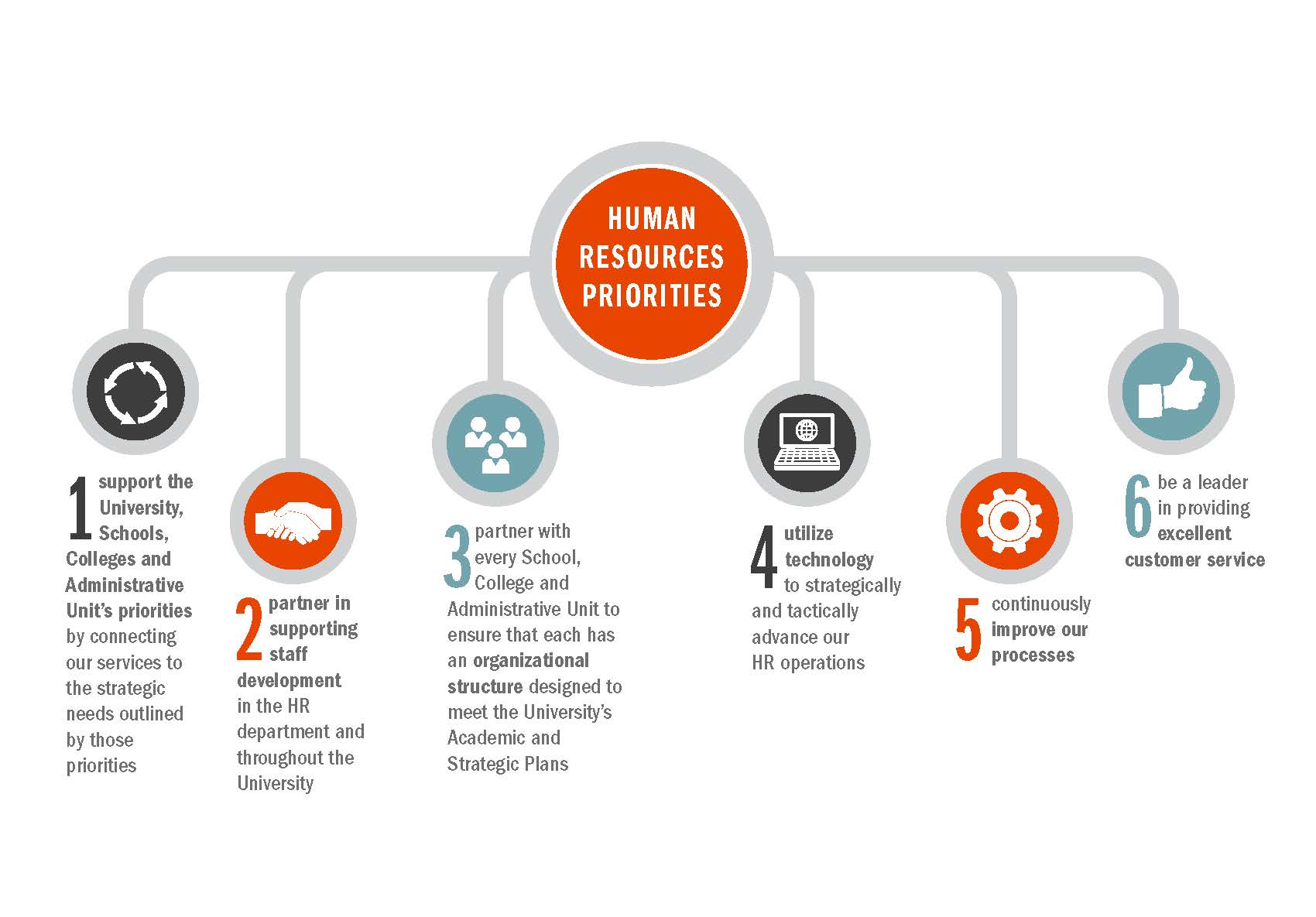 ---
Human Resource Leadership
Andrew Gordon – Senior Vice President and Chief Human Resources Officer
Karen Morrissey – Associate Vice President for Human Resources
Three Main Service Areas
Human Resources is organized into three main areas: Centers of Expertise, a revitalized HR Shared Services and experienced Human Resource professionals as Senior Human Resource Business Partners. As a result of the new organizational structure, HR will focus on accomplishing the following strategic goals:
Building stronger partnerships with schools, colleges, and administrative units;
Improving and streamlining Human Resource transactions, thereby reducing the amount of school and college staff time devoted to Human Resource matters; and
Identifying professional development opportunities for University employees.
Centers of Expertise
The Centers of Expertise will include five centers, each with a clearly defined focus, as well as a dedicated and expanded set of services and skill sets. The centers and the directors leading each team include:
Benefits: Sarah Azria, Director of Benefits Strategy & Initiatives: Provide strategic advice on the development and maintenance of a competitive benefits program, and manage relationships with all benefits vendors.
Compensation: Pamela Socker, Director of Compensation Strategy: Provide strategic advice to University leaders to ensure equitable and competitive pay throughout the University as well as consistent titling and classifications.
Talent Management: Raquel Patterson, Interim Director of Talent Management: Provide a full range of global talent recruiting and hiring needs for all University staff and supports staff development and performance evaluation programs.
HR Information Technology: Manage and maximize Human Resource technology, and lead and support process improvements.
Wellness and  WorkLife: Gail Grozalis, Executive Director of Wellness + Worklife: Manage a range of University wellness and worklife initiatives and supervise and align the Faculty and Staff Assistance Program with University global workforce needs.
HR Shared Services
Shared Services is a model that organizes operational and transactional Human Resources functions to deliver consistent, reliable, and customer-centric Human Resource services. The Human Resources Shared Services Center utilizes a balance of people, efficient processes, and technologies that allow schools, colleges, and administrative units to focus on their goals rather than transactional Human Resource functions.
Senior Human Resource Business Partners & Labor Relations
Our Senior Human Resource Business Partners serve as experts who provide frontline strategic advice on a variety of Human Resource matters to a dedicated set of schools, colleges, or administrative units. The Senior HR Business Partners partner with leaders in schools, colleges, and administrative units to identify staff development opportunities, offer strategic advice and assist with HR matters in their areas. One of the benefits of having a dedicated Human Resource partner includes providing faculty and staff more time to focus on the needs of students and less time devoted to Human Resource matters.
Amanda Barbuto — Newhouse School of Public Communications, Office of the General Counsel,  Office of Diversity & Inclusion, Whitman School of Management, Enrollment Management, The Student Experience, School of Architecture, Athletics.
Michelle Johnson – Whitman School of Management, School of Architecture
Lindsay Blair — David B. Falk College of Sport and Human Dynamics, College of Engineering and Computer Science, School of Information Studies, School of Education, Academic Affairs (excluding Enrollment Management), Graduate School, Library, SU Abroad.
Karin Botto — College of Professional Studies, Hendricks Chapel, Strategic Initiatives and Innovation: Institute for Veterans and Military Families, Government Relations and Community Engagement, Advancement, and External Affairs.
Eric Kay —Arts & Sciences, Maxwell School of Citizenship and Public Affairs, College of Law.
Jodi Mangano — Business, Finance and Administrative Services, Student Experience- Campus Safety Emergency Services.
Dana Sovocool —Information Technology Services, Communications, Marketing, College of Visual & Performing Arts.
Senior Vice President and Chief Human Resources Officer, Andrew Gordon, supports the Board of Trustees, Chancellor's Department, Office of Human Resources.
Our Labor Relations team promotes positive labor-management relations using an interest-based approach to achieve positive outcomes and support the University's overall mission and strategic plan.
Denise Dyce – Associate Vice President, Labor and Employee Relations