In the StrengthsFinder Team Workshop, we use the Gallup StrengthsFinder 2.0 book and the results from each team member's StrengthsFinder assessment to discuss how each person can use their top five strengths to enhance their individual and team effectiveness. This workshop will help you and your team identify your strengths and create a culture where strengths thrive.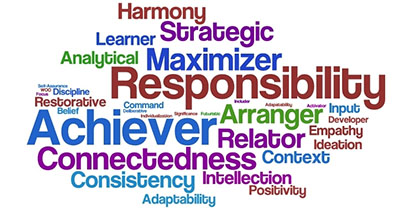 Decades of Gallup research uncovered 34 strengths that exist at some level within everyone. However, each person has "signature strengths," which dominate their actions and behaviors. People who focus on their strengths are more engaged, more productive, and happier. Gallup developed its online StrengthsFinder assessment to help millions of people discover their top five talents.
Below is a list of the steps that need to be taken prior to the delivery of the StrengthsFinder Team Workshop. We recommend at least a 1 to 2 month lead-time for scheduling the workshop date, due to the following steps that need to be completed prior to delivery of the workshop.
StrengthFinder Team Workshop Preparation Steps
If you would like to begin a discussion with us about the possibility of scheduling a StrengthsFinder Team Workshop, please contact Pam Gavenda, Associate Director, Organizational Development & Training, 315.443.7612, pegavend@syr.edu
We look forward to working with you and your team on discovering your individual and combined team strengths.