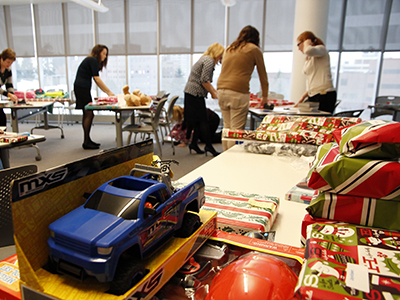 The employee Holiday Sharing Program is again partnering with PEACE Inc.'s Adopt-a-Family Program and the Salvation Army's Christmas Bureau to make the season brighter for local families. University departments and groups are invited to register now to participate in the program, which provides gifts, food, toys and more to families in need.
Visit the University's Holiday Sharing website for full details on each program and to register your group or department to participate. The deadline for departments to sign up is Friday, Nov. 17. The online form to sign up for the program can be accessed here.Participation options through PEACE Inc. include purchasing gifts for an assigned family, providing a basket of household supplies or donating food. PEACE Inc. will assign families to participating departments. Individuals, departments or groups may also elect to donate food or toys to the Salvation Army. The items will be distributed at the organization's annual Christmas Bureau event at ShoppingTown mall.
The Syracuse University Holiday Sharing program is voluntary. In 2016, 31 University departments participated in Holiday Sharing. Their efforts provided food and gifts for 28 families in the Syracuse region and an additional 10 baskets of food, toiletry items and grocery store gift cards.