This year, the On My Own Time exhibition featured artwork from nearly 40 faculty and staff members ranging from paintings, ceramics, drawings, sculptures, photography, collage/assemblage, fiber art, glasswork, computer art, metalwork and mixed media. Members of the University community voted from April 28-May 17 for a favorite piece of art and a panel of professional artists assembled by CNY Arts served as judges for the works to be featured at the Everson Museum.
The selected artwork that will be featured in a public exhibition at the Everson Museum this fall includes:
Richard Breyer–"Mozart in Color"
Fred Wellner–"The Clear-Eyed One"
Philip Arnold–"In Case of Emergency–Break Glass"
Joseph Stoll–"Spring Break"
Peter Irvine–"For They Shall See"
Stephanie Parks–"A Good Egg"
Ronna Schindler–"Camouflage"
Julie Hall–"Balancing Bird II"
Laura Wellner–""Going wit the Flow"
Scott Samson–"Stepladder Mountains"
Popular Vote: Johnny Yinger, "Koaville"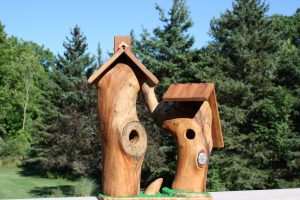 Artwork that will be included in the CNY Arts Catalog: Joseph Stoll, "Spring Break"; and Julie Hall, "Balancing Bird II"
In April 2018, the On My Own Time exhibition will commemorate 45 years of celebrating the arts in the Syracuse community and continuing to recognize the artistic works of faculty and staff.
To read more about this year's entries in the On My Own Time exhibition, go to SU News.